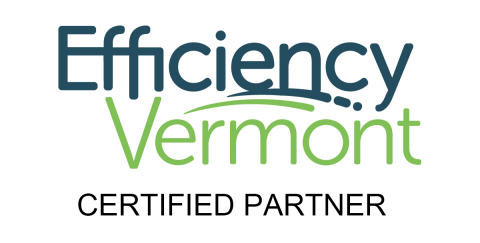 Now that Autumn has arrived and the days and nights are getting cooler it is a great time to start thinking about saving money on your home heating costs. 
Bontrager Custom Builders is a certified Efficiency Vermont partner. We are trained and certified to deliver the highest-quality energy efficiency services.
Sustainable building starts with reducing the heating and cooling loads of the home as much as possible. The right insulation is key. Well-insulated houses not only save energy, cost less to heat and cool, but also keep people more comfortable.
It is important to have the appropriate type and amount of insulation. Because different types of insulation have different insulating values (R-values), what you choose determines how the house is framed and detailed on the outside. We can help you determine this. 
Conduct a Home energy audit, how much insulation is there?
An audit will indicate how a house is performing and where it is loosing heat.
A blower door test and infrared camera will outline the problem areas.
Seal all wall penetrations such as wires or pipes or electrical outlets
Even a small air leak can have a huge impact on heat/cooling loss over time
Use expansion foam
Canned expansion foam. Look for products that use HFC  rather than HCFC or CFC  as propellants.
Add additional insulation to the attic
An attic is a great place to pile on the insulation. A large quantity of a home's heat is lost through the attic
Lay R-38 batts perpendicular to each other or blow at least 10 inches of cellulose..
Use insulation with 75% recycled content that doesn't emit formaldehyde or other VOC's.