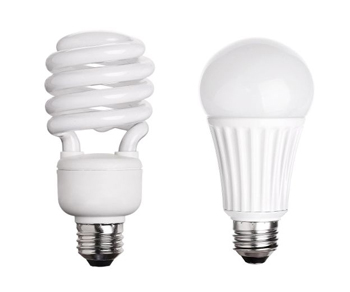 LED lights are super energy efficient, using approximately 85% less energy than halogen or incandescent lighting – meaning significant savings on your power bills. They also have much longer lives than normal incandescent bulbs, (twenty-something years!) making them well worth the upfront investment.
So how do I choose the right one? Contrary to common belief, wattage isn't an indication of brightness, but a measurement of how much energy is being used. For example, an LED bulb with comparable brightness to a 60W incandescent is only 8 to 12 watts. The lumen (lm) is the real measurement of brightness provided by a light bulb, and is the number you should look for when shopping for LEDs. For example, a 60W incandescent blub and an 8-12w LED both give off 800lm of light.
LEDs come in a variety of colors, The popular colors available for LEDs are "warm white" or "soft white," and "bright white." The best way to decide which to buy is to go to the store and see the deifferences for yourself. Consider installing some in various places — especially in areas where the lights may be in use for long periods, like the living room and kitchen, or left on accidentally, like a back hallway or basement. CFL bulbs tend to be cheaper, but LED bulbs are usually preferable in terms of performance, and have come down in cost quite a bit over the past few years.
Simply put, make this simple switch and save money on your energy bills!