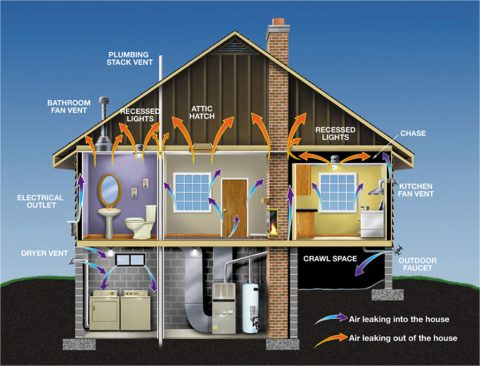 It's true and it's easy! Weatherizing your home is an inexpensive way to save you money. Anyone can do it, just follow these simple steps:
Start by weatherizing the exterior of your home. You will need a caulk gun and exterior mold resistant caulk. The primary areas to seal with caulk are:
The outside edges of windows and doors. Don't forget the basement windows!
Any opening on the wall of your house, including water spigots, electrical outlets, air conditioner hoses, dryer vents, and gas and water pipes.
If you find a large hole or crack, use expanding foam. Don't use expanding foam around any electrical equipment.
Apply caulk to the outside edges of door casings.
Open the door and install weatherstripping to the inside of the doorjamb.
Next weatherize the interior of your home.
If you don't have storm windows, install window film, either interior or exterior (available at most local stores). Apply the tape around the outside edge of the window, apply the film and shrink it tight with a hair dryer. It gives an invisible appearance to the plastic. Don't forget to cover basement windows too.
Heavy drapes or curtains can also help hold back cold air, but remember to open them on sunny days to take advantage of the sun's warmth.
Stop under-door drafts with a rubber or vinyl door sweep along the bottom. (a rolled-up towel can work too).
Electrical outlets, especially along exterior walls, are a prime spot for cold air drafts. Carefully unscrew the cover and press a foam gasket around the sockets. Put the cover back on.
This winter make sure you don't overlook hidden energy wasters in and around your home. Save that money for a nice, warm vacation instead!